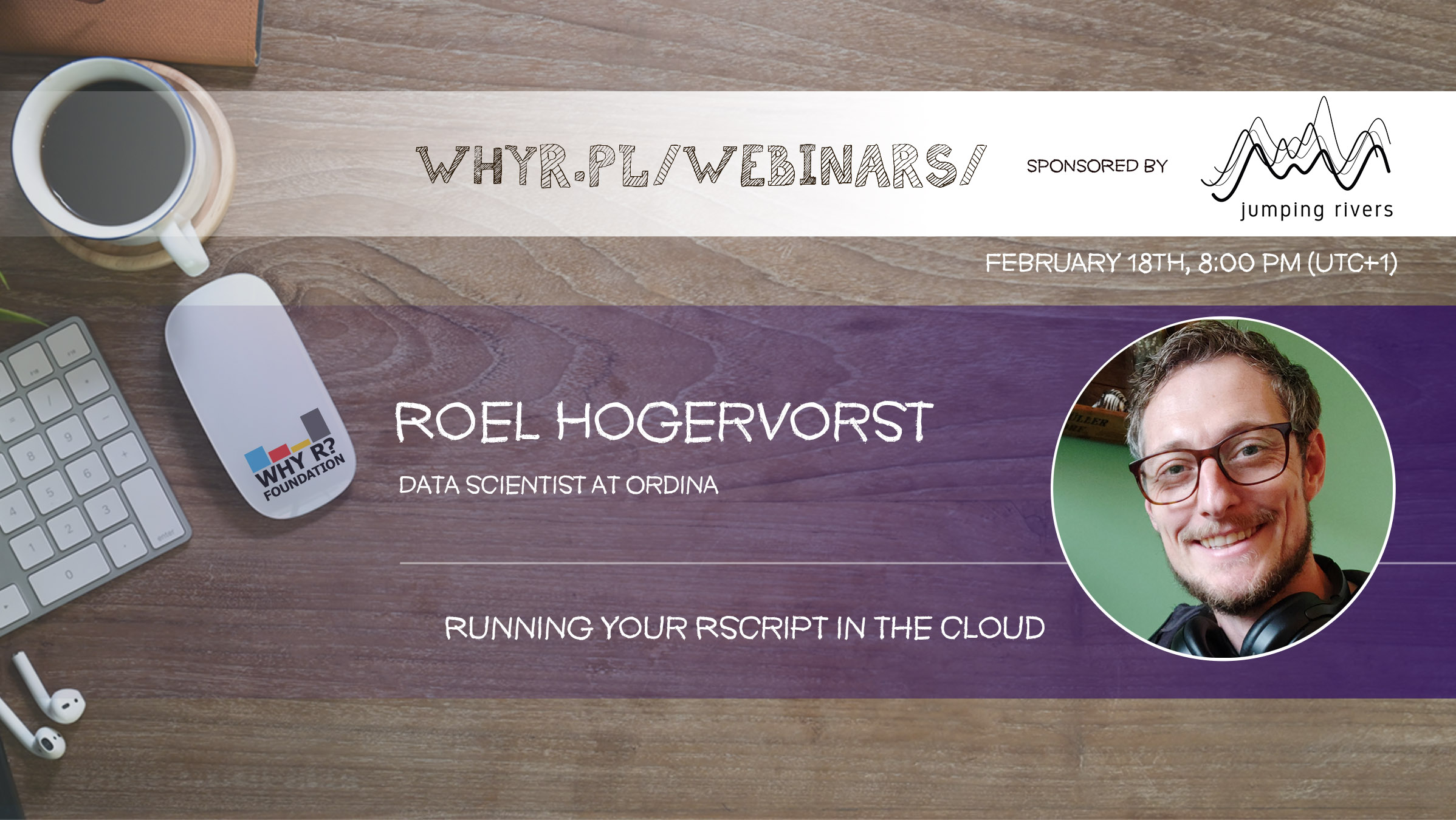 On Thursday, February 18th at 7 pm UTC | 8 pm CET, as part of the Why R? Webinar series, we have the honour to host Roel Hogervorst, data scientist at Ordina. Roel will talk all about how to run your R script in the Cloud. Aiming to inspire all lone data scientists who are also IT consultants, and data engineers all-in-one.
Is that you? A perfect reason to join us then!
Webinar
Check out our other events on this webinars series. To watch previous episodes check out the WhyR YouTube channel and make sure to subscribe!
Looking for more R news? Subscribe to our newsletter, and stay updated on our events, and the most relevant news about our beloved open source programming language.
Finally, if you enjoy our content and would like support, donate to the WhyR foundation. We are a volunteer-run non-profit organisation and appreciate your contribution to continue to fulfil our mission.
Talk
Speaker
Roel Hogervorst
He is a maker who loves to build useful (Machine Learning) tools for people, and sharing what he learns. Roel has been working as a researcher, data scientist and machine learning engineer for the past years. His aim is to make it easy, convenient and simple for everyone to run their R work in the Cloud.
In life-away-from-the-screen, Roel also loves like dogs and him and his girlfriend are getting one soon!
Running your Rscript in the Cloud
Life as member of a data team is awesome but as a lone data scientist in a small company one might have to be a data engineer, IT consultant and data scientist all-in-one. How does one get R scripts to run?
In this talk, Roel hopes to inspire lone data scientists on all the ways they can run R scripts using Cloud providers. He will cover from simple to more advanced use-cases for running R in the Cloud. Finally, Roal will also discuss how to cooperate with IT departments for the most efficient results.
Sponsor
This event is part of a series sponsored by Jumping Rivers. For more information, check out the JR and WhyR partnership announcement.
Contact